This year I asked the little man what he wanted to be for Halloween. As in the past, we wanted to to family costumes. So far we have done
Nintendo's Mario Cart
,
Pirates,
and
Toy Story
. This year he decided we should be
Teenage Mutant Ninja Turtles
.
Since we only have 2 kids, it was decided that their two cousins would join in on the fun and be the other 2 TMNT. 2 boys and 2 girls (with turtle tutus). You can check out the kids costumes and tutorial HERE.
Now since the littles and their cousins are going to be TMNT, Mom and Dad had to be something else. The Little Man decided that a Shredder costume would be the perfect idea to go along with TMNT.
Of course, I, being the one who had to come up with the costume, was a little stumped. I mean, have you ever had to make a Shredder costume? He has spikes!! And headgear. So when I heard that the Knight Hoodie Pattern was going to be coming out in teen and adult sizes, I knew it would be the place to start.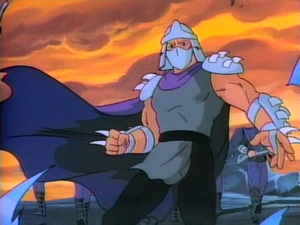 If you can't remember who or what Shredder looked like, you can see in the picture he has lots of spikes. I knew the Knight Hoodie Pattern would work well since I didn't want the costume poking anyone. Of course, I did have to change a few things.
First, I needed 2 colors of grey sweatshirt fleece: one light and one dark.
For the spikes on the shoulder, I made a rounded shoulder pad and attached 4 spikes on each side. I did this instead of adding the Shoulder Armor.
On the sleeves, I sliced two sections out of the front of the sleeve and sewed in the spikes there. I kept the Elbow Plate because I thought it gave it a tough look.
I also lengthened the hoodie about 8 inches and added a black stripe through the middle just like Shredder's belt. My husband is tall and skinny so we needed the correct size but extra length.
Overall, I love how it turned out. I even told my husband that perhaps I should wear the Shredder costume instead of him. But he said no because he liked his costume.